Remodeling Services From Professional San Jose Plumbers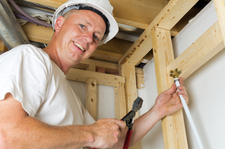 Are you planning a remodeling project for your home? The San Jose plumbers at Arroyo Plumbing and Drain provide plumbing remodeling services that can transform your home. A new or improved kitchen or bathroom is a good idea if you want to make improvements that everyone in your family can enjoy. Your kitchen and bathroom is a necessity, but it does not have to look plain. Even if you have a limited budget, Arroyo Plumbing and Drain can help you make it look better and more attractive.
Our remodel plumbing services can make your kitchen or bathroom look better than you may imagine. We can make it look like a designer room for a very reasonable cost. Below are some ideas that you may consider:
Install a new sink that uses a modern design and is easier to clean
Install a contemporary shower stall
Install a new toilet that flushes better and uses less water
Change knobs and faucets in your kitchen or bathroom sink
Change your shower head to one that is detachable or one that sprays better
Install a water filter system in your kitchen
Licensed Residential and Commercial San Jose Plumbers
Arroyo Plumbing and Drain is a licensed and insured San Jose plumbing company that employs a team of experienced plumbers. Expert installation is our specialty. Our San Jose plumbers install new fixtures and accessories that make two of the most used rooms in your home special places. Our San Jose Plumbers are nearby, and can provide plumbing services in San Jose and other nearby communities in Santa Clara County.
We provide high quality service to you at a fair price, and all of our work is fully guaranteed. You can get a free estimate with recommendations that fit your budget. If you ever need a repair, there is no service charge for your first call. We have a long list of satisfied clients, and we want to include you on our list. You can count on us.
Phone 408 278-0170 for remodels, new installations or emergency plumbing services from trusted San Jose Plumbers.