Professional San Jose Emergency Plumber -With A Money-Back Guarantee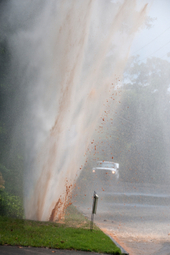 Our skilled and experienced emergency plumbers in San Jose are trained to provide quick, effective solutions for your most complex plumbing problems. Water, sewer and gas lines should only be worked on by a professional. Even the smallest mistake can cause serious damage and hundreds of dollars in repair expenses, not to mention the inconvenience and stress that go with it. Don't trust your plumbing to just anyone, especially in an emergency!
Arroyo Plumbing & Drain is a licensed and insured San Jose plumbing company that has 24-hour emergency plumbers on call to meet your service needs. We provide prompt, professional plumbing, sewer and gas services for commercial and residential properties in San Jose and the neighboring areas of Santa Clara, Milpitas, Mountain View, Palo Alto, Cupertino, Saratoga, Los Gatos, Morgan Hill and Gilroy. Fast turnaround and top quality work has contributed to consistently high customer ratings on Home Advisor.
Have a Plumbing emergency in San Jose or a nearby community? We can take care of:
Toilet repairs
Faucet leaks
Plumbing leaks
Clogged drains
Water heater repair (gas, electric and tank-less water heaters)
Leaking drains, overflowing toilets, pipe bursts and clogged sewers often occur after regular service hours. Don't worry! We can have a San Jose emergency plumber reach your location within an hour, in most cases. Plus, we also provide a money-back guarantee to ensure your absolute peace of mind.
Call 408-278-0170 for a free estimate and initial service call from our licensed and skilled San Jose 24-hour plumbers.
Fair Prices and Free Service Call from a San Jose Emergency Plumber
When the unexpected happens, you need an emergency plumber in San Jose that you can trust. Our free service call, fair-prices, plus a money-back guarantee offers stress-free, professional services with no hidden charges. We will also provide you a free estimate so you know how much you're going to pay before we start work. You won't find too many plumbing services in San Jose that will do this.
Arroyo Plumbing & Drain employs trained and experienced San Jose plumbers and uses the latest equipment (like video sewer inspection) to get the job done right and in the shortest possible time. We respect your property and clean up after each job.
You don't have to wait for hours for plumbing work that requires an immediate solution. We always have a reliable emergency plumber to attend to your needs.
Phone 408-278-0170 for service with a money-back guarantee from a licensed emergency plumber in San Jose.